Why Kokikai?
Why Kokikai?
Personal Development

Training Style

Learn a system of personal development
Acquire skills that could become an integral part of your life's journey
Develop brain power by training your body and mind in something totally new and different
Remain calm in difficult and stressful situations as a result of your Aikido training

Train in a supportive, non-competitive environment
Maintain or enhance physical fitness
Enjoy a cooperative co-ed environment
Teacher's act as coaches, not drill sergeants
Advance at your own rate

Japanese Culture

Promotion

Develop a greater understanding of Japanese culture
Learn basic Japanese language

Earn colored belts at regular intervals
Enjoy the satisfaction of accomplishment with your dojo

Community

Self Defense

Become part of the Aikido Kokikai community
Opportunity to attend national camps and seminars, one led by Kokikai founder in Boston!
There are other dojos across the country where the same style of Aikido is practiced.
Add to your network of friends and aquantainces

Learn practical skills of self defense immediately
Develop your power through mind body coordination
Use practical modern techniques to evade real attacks in a non-violent way
Visit our FAQ For some basic information about our class!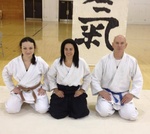 Aikido Kokikai Chinatown
Click Below for some Basic Information about our Class!