What is Kokikai Aikido?
Kokikai Aikido
What is Kokikai Aikido?
Kokikai Aikido emphasizes natural movement, ki development, relaxation, good posture and mind-body coordination. It is a minimalist martial art that focuses on making techniques effective while using little physical effort. An axiom of the style is "minimal effort for maximum effect." The name Kokikai means "school of radiant ki".
Our style uses four basic principles:
Keep One Point (to develop calmness)
Relax progressively
Correct posture (in everything)
Develop your Positive Mind
The style was founded by Shuji Maruyama (referred to as Maruyama Sensei, or just Sensei), and continues to be led by him. He continues to develop the art, so there is no set textbook way of performing any technique.
The History
Kokikai-Ryu Aikido founder Sensei Shuji Maruyama began his study of Aikido in 1955 under Koichi Tohei Sensei who was at the time chief instructor of Aikido under Master Ueshiba. Later after receiving an introduction from Tohei, Maruyama Sensei apprenticed directly with Master Ueshiba.
Aikido was developed by the founder of Aikido Master Ueshiba in the samurai tradition of Budo. Master Ueshiba placed emphasis on maximizing human potential – emphasizing strength and efficiency through the coordination of mind and body. Through a special realization he was able to develop his potential power. The essence of his realization was that he discovered how to use only necessary strength. He understood his natural human ability and how to use that ability correctly and efficiently, and he applied his understanding to develop a system of new techniques that would eventually solidify into the art known as Aikido.
The Results
An effective form of self-defense, Kokikai Aikido relies on a strong mind and correct technique not physical strength alone. As a result classes include both men and women practicing on equal footing. Designed to defend against multiple attackers, it offers many solutions to aggressive behavior by others.
By emphasizing human development, Kokikai Aikido results in self-improvement. Kokikai Aikido training promotes centering, correct posture, relaxing progressively and positive mind. The combination of these elements produces a different concept of strength which results when mind and body work together in a relaxed way. This discipline not only allows us to defend ourselves, it enables us to increase our enjoyment of our daily lives and enrich the lives of others. Most importantly, Kokikai Aikido offers us the opportunity to learn how to control ourselves, so that we can deal with any situation gently, and with confidence.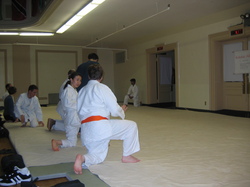 The Refinement
In the further development of Kokikai Aikido, Maruyama Sensei has stayed true to Master Ueshiba's tradition and has refined the techniques to make Aikido more effective in modern circumstances. Maruyama Sensei has caught Ueshiba's feeling for using only necessary strength, using the minimum effort necessary to achieve maximum results, but he now applies that feeling to technique responsive to the realities of modern unarmed fighting. Kokikai Aikido practice is characterized by realistic, focused attacks, and the fluid responses that employ timing and rhythm to take the opponents balance completely before the application of a throwing technique.
Anyone Can Do It
In our teaching we encourage everyone. Maruyama Sensei has said not everyone can be a great marathon runner or tennis player, but everyone can become proficient in Aikido through Kokikai training. He says "I can do it, you can do it."
We invite you to join us to experience, the power and enjoyment of Kokikai Aikido.