Kids and Family Class
Beginner's Family Program Information
KOKIKAI AIKIDO BOSTON, Inc.

PRESENTS

AN INTRODUCTION TO
AIKIDO


http://www.kokikaiboston.com

A six-week program providing an overview of basic Aikido skills.

No prior experience is necessary.

This program is intended to help the beginning student learn the

necessary skills to fully participate in ongoing Aikido training.

Aikido is a Japanese martial art that focuses on non-violent

responses to conflict. It is an effective means of self defense and

also a vehicle for personal refinement and discovery. We welcome

you to come and try this art in a safe and inspiring environment.

Price Includes:

Kokikai Aikido Manual

Quality Aikido Uniform

Instructors: Heather Randolph Sensei

and Andreea Nicoara Sensei

Details: Day/Time: Tuesdays and Wednesdays 6-7:30

Start Dates:

Adult only: see Beginners Program Information on website or monthly fees info.

Child only - $135 per child ages 10-16, includes quality uniform and manual.

Additional family member or friend $80.00 ages 10-16, includes quality

uniform and manual

.
Interested in the Beginners Program for Individuals? Click the link below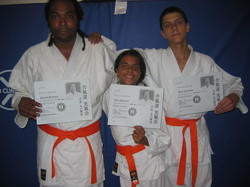 Kokikai Family Beginner's Program
Our beginners program is a great way to get started in Aikido. We include a quality gi you can use for years to come as well as a manual.
When you or your child would like to join as a regular member, adults and children can pay by the month. Click this link for details!
We offer quarterly, semi-annual and annual memberships for your convenience.
We have over fourteen years of experience!
Click the link below to Contact Kokikai Aikido Family Program
Clink the link below for general Membership Information