Beginner's Course Schedule and Information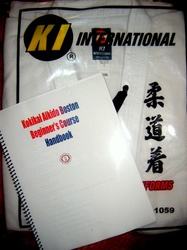 Your quality uniform and Beginner's Manual are included!
The Boston Kokikai Aikido Beginner's Course is a great way to start your Aikido training! It is only $169.99 which includes:
Six Weeks of Aikido Training* (12 weeks for one day a week Beginner's Courses) Take as many classes as you like!
Quality Judo Uniform - good for many years of Aikido training!
Beginner's Manual - a hard copy Beginner's Manual that will accompany you throughout your years of Aikido study!
Training includes:

Basic balance and posture

Basic Japanese Language

Introduction to basic Aikido Technique

Introduction to Basic Rolling

Aikido Philosophy

And so much more!
At the end of the six weeks, you will have a comprehensive introduction to Aikido training. At that point you can decide to become a regular member in Boston Kokikai Aikido and start paying dues as a member. In another two months, you can consider testing for your first belt level and becoming a full member of Aikido Kokikai International!
---